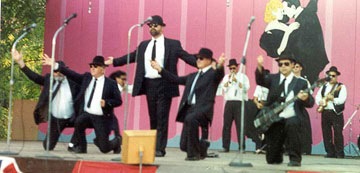 The Grand Ledge Bums formed in 1994 as a "men's chorus" in Grand Ledge''s annual variety show, Mudge''s Follies. Membership in this chorus was open to all male cast members,but only six choose to participate. Of these, five have remained active throughout the Bum's' 19 year history. They are (from left to right) Alan Cheney, Lew Gentry, Mark Gober, Chuck DeFore, and Bob Engardio. All five are residents of the Grand Ledge area, and, like all true musicians, have (or had) day jobs.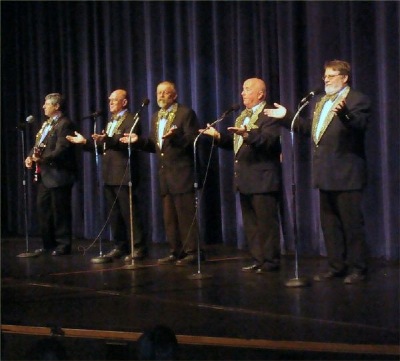 Lew is a retired Grand Ledge School Teacher and former mayor of Grand Ledge.


Mark a retired postal employee and avid hunter. (Please do not feed or annoy Mark.)


Chuck (the oldest bum) is still working (but only because he owns the barber shop).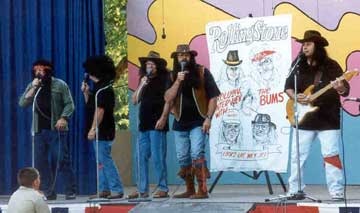 In their original appearance they were billed as "The Beach Bums" and sang a medley of Beach Boy songs. After viewing the video tape of their performance they were awed at their lack of talent, and have never again performed songs recorded by the Beach Boys (or at least not for over 15 years). To their amazement, their performance was well received, and they were invited to participate in the annual Christmas show, "Holiday Wishes". In the 19 years since that first performance they have (slowly) built up their repertoire, and performed under many other identities, including the Saddle Bums, the Back Stage Bums, Da Bums, Dr. Bum, The Village Bums, The Yule Bums, and the Bluuues Bums.

At their 15th anniversary party in April of 2009, they were gratified to hear many positive comments about their performance. (Yes, party attendees were forced to listen to three sets of Bum music) These are a couple of the many comments that were overheard: ""When did you guys get good?"" and ""I did'n't think you guys were any good!"" (The last was from the wife of one of the band members)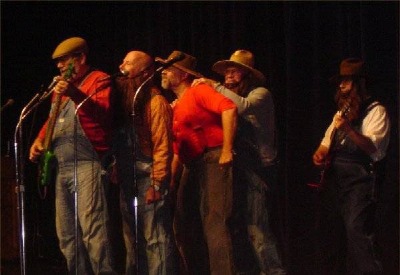 While the GL Bums do appreciate paying gigs, many of their performances are charitable (sometimes on the part of the Bums, and some times on the part of the audience). In either case, the Bums receive no remuneration for these events. They have performed in support of the Grand Ledge Relay for Life, Thank the Troops (Operation Home Front), the Clinton County Habitat build (in Wacousta Michigan), The Grand Ledge Emergency Assistance Program (GLEAP), Ingham Assisted Living Facility, the Sparrow Hospital "Care for the Caregivers" Program, and many others. In fact, at their 15th anniversary party they received commendations from both the State of Michigan and the City of Grand Ledge for their community service. (the latter declaring April 25th, 2009, "Grand Ledge Bums Day")

Please consider joining the GL Bums for their 20th Anniversary Celebration this May.